Cosmo's Diner is a local diner owned and run by Cosmo, who serves anyone who comes in for friendly food and service.
Description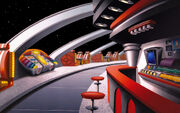 Under construction.
Layout
Under construction.
History
Little is known about the diner, but it seems to have been around for quite sometime, around the time of "Tag Team".
Staff
Trivia
It is evident that both Buzz Lightyear and the Evil Emperor Zurg share a same liking for Cosmo's Cosmic Chili!
Appearances
References
Under construction.
Ad blocker interference detected!
Wikia is a free-to-use site that makes money from advertising. We have a modified experience for viewers using ad blockers

Wikia is not accessible if you've made further modifications. Remove the custom ad blocker rule(s) and the page will load as expected.