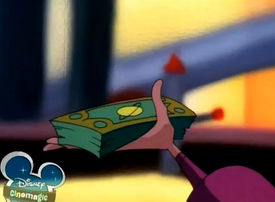 Even in 
Buzz Lightyear of Star Command,
currency is needed
within the galaxy to buy, sell or give goods.  
Uni-bucks
The primary form of currency, uni-bucks resemble green dollar bills. Their exact value is unknown, but they are consistently used in everyday life, from the nearby planet of Tradeworld to the far reaches of Planet Z. 
Ad blocker interference detected!
Wikia is a free-to-use site that makes money from advertising. We have a modified experience for viewers using ad blockers

Wikia is not accessible if you've made further modifications. Remove the custom ad blocker rule(s) and the page will load as expected.