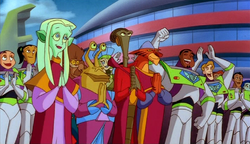 Buzz Lightyear of Star Command has a rich array of characters, both major and minor, and both good and evil. This page is an attempt to make a comprehensive list of all characters, both named and nameless, as they appear on the show and in the ending credits.
For alien races and information on planets, sectors, and other facilities, check our other sections on Robots, Planets, and Species instead.
Space Rangers
Main article: List of Space Rangers
Politicians
Robots
Full list of characters
A
B
C
D
E
F
G
H
I
J
K
L
M
N
O
P
Q
R
S
T
U
None.
V
W
X
Y
Z
#
If you think any characters are missing, don't hesitate to tell us!
Ad blocker interference detected!
Wikia is a free-to-use site that makes money from advertising. We have a modified experience for viewers using ad blockers

Wikia is not accessible if you've made further modifications. Remove the custom ad blocker rule(s) and the page will load as expected.