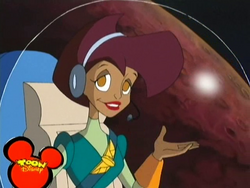 "Really? All you Rangers look alike."

The title of this article is not the individual's real name.
The traffic reporter is a human female.
Physical Appearance
Tan skinned with brown eyes and hair, the traffic reporter is an attractive young woman. She wears grey pants and a dark green jacket over a lighter green shirt, and an orange belt around her waist. When she's on duty, she dons a headset so she can give traffic updates.
History
As she only appears briefly, nothing is known about her beyond her occupation.
Personality
The traffic reporter is talkative and upbeat, confidently giving out advice to passing commuters and even remaining unphazed when a rogue ship ploughs through traffic.
Abilities
She seems to be very familiar with the Galactic Alliance spaceways and suggests alternate routes to drivers when necessary, keeping her cool even when trouble surfaces.
Quotes
"Good morning! Things are looking great on the Tangean Starflight, but there's a little flowing as you round Tradeworld!"
Trivia
Under construction.
Appearances
References
Ad blocker interference detected!
Wikia is a free-to-use site that makes money from advertising. We have a modified experience for viewers using ad blockers

Wikia is not accessible if you've made further modifications. Remove the custom ad blocker rule(s) and the page will load as expected.